Building an online store from scratch can be exhausting but you need to be patient. The only thing you need to know is which tools to use, and how to use them. Building an online store can be tricky, especially if you are not a specialist. We want to make it as easy as possible for you, by writing this guide for beginners. If you want to start an online store read it carefully. However, if you decide you still cannot build it by yourself, you can always find professional help here. Feel free to check out our online store offering.
Think about what you need to open an online Store
It's a great time to start an online business. All you need is a computer, and then you can get started within a matter of minutes, and without acquiring any special skills. Things you need to start an online store are:
A domain name idea (you can find your domain idea here);
A web hosting account (this is where your website lives on the internet);
Your full attention for 30 minutes.
You can create your own online store with WordPress in less than 30 minutes. We will show you step by step, how to set up an online store.
Set up your Online Store Platform
You have to choose the right platform for your online store. Many people make the mistake of choosing the wrong platform. Don`t worry we are here to help you. The selection of eCommerce platforms is huge but we want to introduce you three the most important platforms:
Shopify is a fully hosted eCommerce solution the costs start at €29 / month. It's a hassle-free solution where you just log in and start selling. However, the downside to Shopify is that it gets quite expensive, and your payment options are limited unless you pay additional fees;
WordPress & WooCommerce offers flexibility. It does require some setup, but it's worth doing it for the long run. WooCommerce is the world's largest eCommerce platform.
VEONIO's online stores are based on WooCommerce and therefore include all WooCommerce features. In addition, we customize everything to your needs, add more features, where necessary, and take care of maintenance and optimization to increase speed.
In this tutorial, I want to give you tips on how to set up an online store in WordPress, using WooCommerce.
Set up your Online Store
To set up your online store you need to have:
The domain name that means your website's address on the internet. It is what users will type in their browsers to reach your online store (for example veonio.com, a domain name costs around €15 per year);
Web hosting is where your online store lives on the internet. It's your website's "house" if you will, on the internet. Every website on the internet needs web hosting (costs around €10 per month);
SSL certificate its web server to initiate a secure session with browsers. Once a secure connection is established, all web traffic between the web server and the web browser will be secure. This is required for you to accept credit card payments on your website (costs around €70 per year).
There is another and much cheaper option: Bluehost, an official WordPress and WooCommerce recommended hosting provider. The website offers a free domain name, free SSL certificate, and a discount on web hosting. The whole package cost $6.95 per month.
Bluehost is a leading web solutions services provider. Since their founding in 2003, Bluehost has continually innovated new ways to empower people to fully harness the web. Based in Orem, Utah, they provide comprehensive tools to millions of users throughout the world so anyone, novice or pro, can get on the web and thrive.
What you need to do is:
Open up Bluehost website in a new window;
Then click on the green Get Started Now button;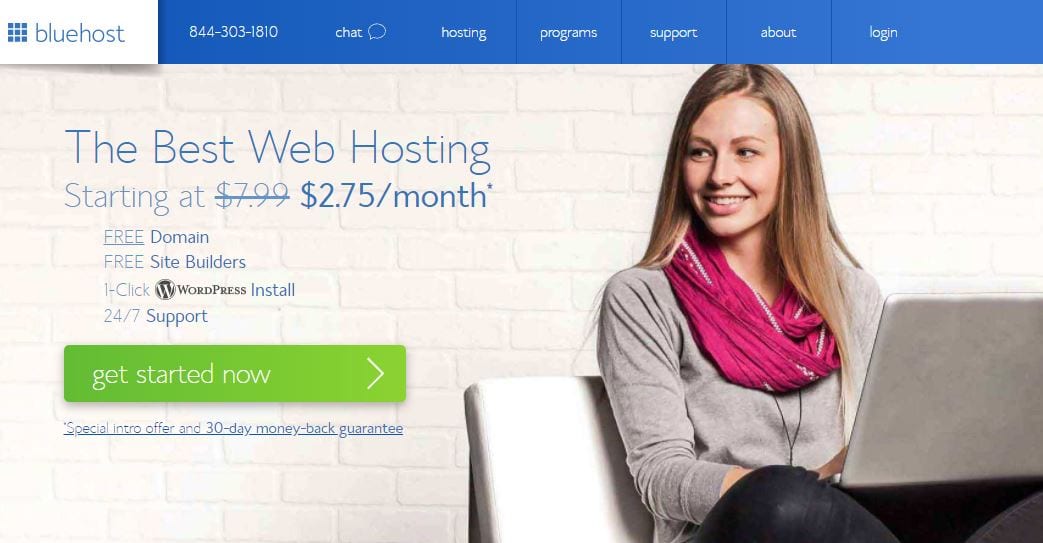 The next step is to select the plan that you need ;

You will be asked to enter the domain name for your website;
You will need to add your account information and finalize the package info to complete the process. You will see their optional extras that you can purchase. It's your choice whether or not you purchase extra options, but I do not recommend purchasing it. You can always add them later on if you decide that you need them;
Check your email, you will receive a message with details on how to login to your web hosting cPanel. This is where you manage everything such as support, emails, among other things;
You will be greeted with a popup informing you that WordPress with WooCommerce is pre-installed on your website;
Press on 'Login to your site' button, and it will take you to your WordPress site's dashboard.
You have finished setting up the hosting and domain part. Now you have to set up your WordPress site and then your online store.
Set up a WordPress online store with WooCommerce
Setting up Bluehost it has automatically installed WordPress and WooCommerce on your website. Your next steps are to configure it:
After logging in to WordPress for the first time, you will see a welcome message. You will be asked what kind of website you want to set up.
There will be a tutorial but you can skip it by clicking on 'I don't need help' link. No worries, I will walk you through all the necessary steps.
After logging in you will see your WordPress admin dashboard. Next, visit Settings » General page to set up your WordPress site title and description.
Set up HTTPS to use SSL: You get your WordPress hosting package with a free SSL Certificate. This certificate is pre-installed for your domain name. You need to configure your WordPress site, to load it as HTTPS vs HTTP. On the Settings » General page, you need to change your WordPress Address and Site Address to use https instead of HTTP. Remember to scroll down to the bottom of the page and click on the save changes button.
Congrats! Your basic WordPress setup is complete. Now it is time to set up your online store.
Set up a WooCommerce Online Store
Before you start running your online store, there are a few things like currency, payments, and shipping information that you need to set up on your WordPress admin pages. Follow these steps:
'Welcome to WooCommerce' => 'Run setup wizard' => 'Let's go'
WooCommerce needs few necessary pages for cart, account, shop, and checkout. You can click on the continue button to automatically set up these pages.
You need to inform WooCommerce where your store is located and which currency and unit measure to use.
Then select your location and currency and click on the continue button to move on.
Next, you need to enter shipping and tax information.
You need to check the box if you will be shipping goods, but if you will be selling digital goods you can leave it unchecked. There will be a tax question which you need to answer. WooCommerce can help you automatically calculate and add taxes to your prices. You don't have to fill it if you are not sure, leave it unchecked. You can add tax information later from WooCommerce settings.
If you are ready, click on the continue button to move on.
Next step is to choose a payment method for your online store. You can install preferred payment methods but WooCommerce comes with support for PayPal, PayPal Standard, and Stripe payment gateways by default.

If you want to use PayPal as a payment method, simply enter your PayPal email address and click on the continue button.
By using Stripe, you let your users enter their credit card information on the checkout page without having to leave your site and going to PayPal. You can setup Stripe by following the instructions on the WooCommerce.

Well done, your WooCommerce online store is all set up and you can start adding products to your online store.
Add Products to your Online Store
Start with adding your products to the online store:
Simply visit Products » Add New page to add a new product. You need to provide a title for your product and then a full description;
To create categories go on the right side column, you will see the 'Product Categories' box. Click on the '+Add New Product Category'. This allows you and your customers to sort and browse products;
Scroll down a bit and you will notice the Product Databox. You can provide product-related information like pricing, inventory, shipping etc.;
Below product data box, there is a box to add product short description. This short description will be used when users are viewing multiple products on a page;
To add the main product image and a product gallery go on your right-hand column and add photos to the boxes;
Click on the Publish button to make it live on your website. You can add as many images as you need.
Select and customize your online store WordPress theme
Themes attract the customers, control how your online store looks and also control how your products are displayed. There are thousands of paid and free themes available. Your Bluehost hosting account mechanically installs the Storefront theme for your website. You need to customize it to make your online store look unique.
If you are not happy with your online store theme, head over to Appearance » Customize page. You can launch theme customizer and change different theme settings. By visiting Appearance => Themes page you can change your theme as you wish.
Extend your online store with WooCommerce plugins
To customize your online store even more and add features like contact forms, galleries, sliders, etc, you need to use WordPress plugins (apps that allow you to add new features to your website). WordPress offers 46,000 plugins.
So what are you waiting for? Time to get your online store setup and it's ready to use. See you on the web.